Bending Water stream by charged rubber rod – how?
When a charged rubber rod is brought close to a thin stream of water, the water is attracted toward the rod and the stream is bent.
Water molecules have a permanent separation of charge or regions of different charges. Such molecules are called polar molecules. Charged rod brought close to a small stream of water causes the stream to bend because of the polarization of the water molecules.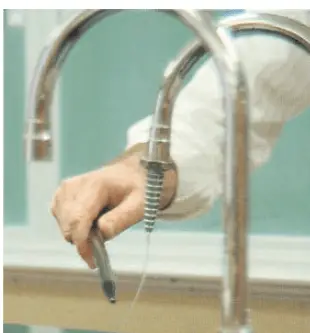 The water molecule is actually angular (105 degrees between the two bonds), so the bond polarities reinforce one another instead of canceling. The center of the positive charge is midway between the two hydrogen atoms. The center of the negative charge is at the oxygen atom. Thus, the centers of charge are separated, and water molecules are polar.