Here is a quick reckoner full of equations for moments of inertia of various bodies of various shapes.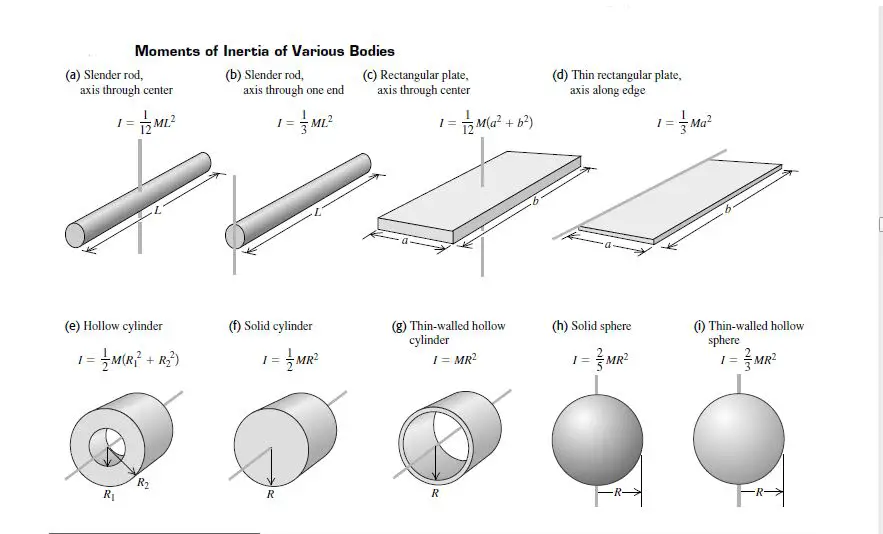 Here is a List of equations that are available in the diagram (figure 1 above).

You will get Moment of Inertia equations for
(a) Slender rod with the axis through center
(2) Slender rod axis through one end
(3) rectangular plate axis through center
(4) Thin rectangular plate axis along edge
(5) Hollow cylinder
(6) Solid cylinder
(7) Thin-walled hollow cylinder
(8) Solid sphere
(9) Thin-walled hollow sphere.
Moments of Inertia of various bodies – quick reckoner chitsheet with diagram and equations
Anupam M is a Graduate Engineer (Electronics & Communication Engineering, National Institute of Technology -NIT  Graduate) who has 2 decades of hardcore experience in Information Technology and Engineering. He is an avid Blogger who writes a couple of blogs of different niches. He loves to teach High School Physics and utilizes his knowledge to write informative blog posts on related topics. Anupam M is the founder and author of PhysicsTeacher.in Blog.