Integrated Circuit – Nomenclature, Part numbers
In this post, we will discuss different types of digital Integrated circuits or IC and also know about their IC Nomenclature, part numbers, etc. We will also learn about (a) Marking on a typical digital IC, and (b) Decoding the part number on a typical IC.
Integrated Circuit – TTL (Nomenclature)
The top of a typical TTL digital IC is shown in Fig 1 (a). The block form of the letters "NS" on the top of the IC shows the manufacturer as National Semiconductor. The DM7408N part number can be divided into sections as shown in Fig1(b). The prefix "DM" is the manufacturer's code (National Semiconductor uses the letters "DM" as a prefix). The core part number is 7408, which is a quadruple two-input AND gate TTL IC.
This core part number is the same from manufacturer to manufacturer. The trailing letter "N" (the suffix) is a code used by several manufacturers to designate the DIP.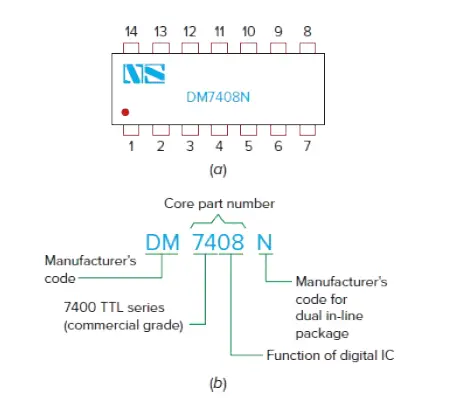 Commercial grade Low-power Schottky digital IC (Nomenclature)
The top of another digital IC is shown in Fig2.(a). The letters "SN" on this IC stand for the manufacturer, Texas Instruments. On this unit, the suffix "J" stands for ceramic DIP packaging. This is typically referred to as the commercial grade.
The core part number of the IC in Fig.2(b) is 74LS08. This is similar to the 7408 quadruple two-input AND gate IC discussed earlier. The letters "LS" in the center of the core number designate the type of TTL circuitry used in the IC. In this case, "LS" stands for low-power Schottky.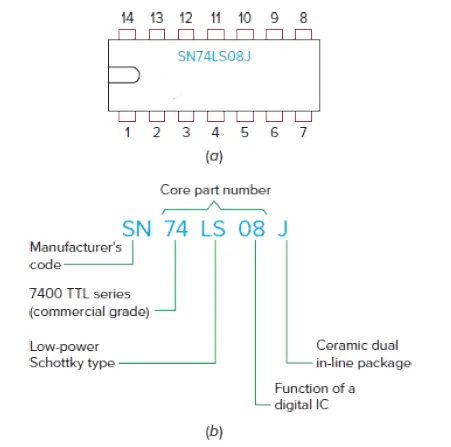 Typical internal letters used for 7400 series IC (Nomenclature)
The internal letter(s) in a core part number of a 7400 series IC tell something about the logic family or subfamily. Typical internal letters used are: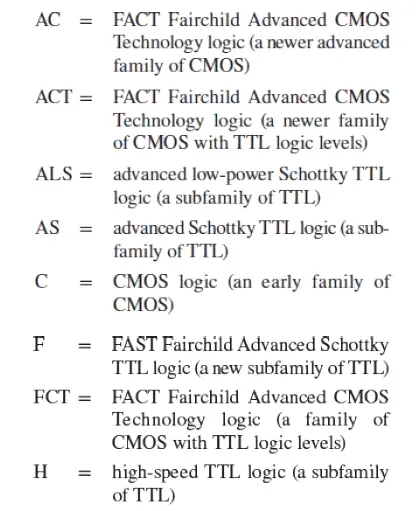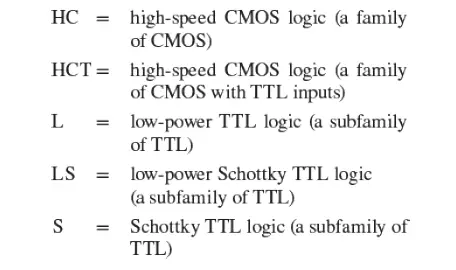 The internal letters give information about the speed, power consumption, and process technology of digital ICs. Because of these speed and power consumption differences, manufacturers usually recommend that exact part numbers be used when replacing digital ICs.
When the letter "C" is used inside a 7400 series part number, it designates a CMOS and not a TTL digital IC. The internal letters "HC," "HCT," "AC," "ACT," and "FCT" also designate CMOS ICs.