Characteristics of sound wave | Properties of sound wave
Last updated on June 28th, 2023 at 12:35 pm
In this post, we will list down some important features of sound waves (the nature of sound waves).
Characteristics of sound wave | Properties of sound wave
Sound is a longitudinal wave transferred by oscillating molecules and it needs a medium through which it can travel.
Sound cannot travel across a vacuum.
Sound is created when a surface vibrates (oscillates) and disturbs the air that surrounds it, producing a series of compressions and rarefactions that travel away from the surface as a longitudinal wave.

Figure 1 represents a sound wave traveling in the air away from the surface of a vibrating loudspeaker. A series of compressions and rarefactions are superimposed on the random motions of air molecules. As a sound wave passes through air it causes tiny variations in pressure and density.
The loudness of a sound depends on the amplitude of the wave.
The pitch of a sound depends on the frequency of the wave.
The range of hearing of the human ear is approximately 20 Hz to 20 kHz. Higher frequencies are described as ultrasonic.
Figure 2 represents two different sound waves. The upper one is a louder and higher-pitched sound than the lower one.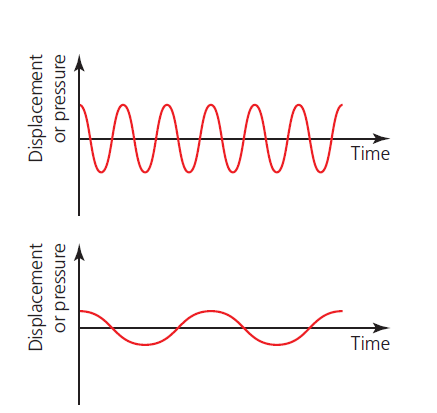 Sound travels much faster and with less absorption through solids and liquids than through air. This is because the molecules are closer together and have forces between them.